A disfrutarlo !!!!! Enjoy it !!!
Hi my name is Noel and this is my experience from Campus La Marina.
This was my first time at the camp, and I wasn't dissapointed. I don't know if it was as fun before when I wasn't at the camp but this year it was epic. I don't want too brag or anything but it might have been because me and Emil Karlander was there. But seriously it was really fun.
The day I arrived it feelt like it was goona be fun but still tough because of the heat in Spain. The first practice was ok but not the exciting but the night practice was really fun. We had a relaxed practice with 1v1 moves and some postmoves. After the first night they waked you up with the song Blurred Lines. The song is good but if I put it like this it gets a bit annoying when you realize they don't have any other song. So each morning you went up so you could put you headphones in and listen too some good music.
The food was good. The serving was a bit different from Sweden where I live. Shout out to Sweden the country with the most balling people in the world. Just kiding but anyways, they served you the food which was nice because in Sweden you have to server yourself your food.
The second day they had divided us in to groups, my group had to run to a camping each practice which was fun if you like runing. The second day we had a 3v3 tournament in which me and my friends Emil and Erik teamed up.
The third day was as the second day but we had a 2v2 tournament. In the 2v2 tournament me and Emil teamed up we made it to the final and then the 08:or came and fucked it up.
The fourth day it was 1v1. 1v1 was fun because you could show of your skills.
The fifth day we went to the beach. At the beach they had some fun but sick games were you run in to the water get weat then role in the sand. In the evening we had shooting competions we shot 2 and 2. You could get diffrent points 1, 2, 3, 4, 6. Not to brag now but me and my friend Emil won the whole thing we were "ON FIRE!" Mickey and Santi didn't stand a chance.
Now to the sixth day it was like all the other days. In the evening we had games between Sweden and Spain. The girls lost their game we don't have to talk about that. What we have to talk about is that the swedish guys won big over the spanish guys so well as I said earlier Sweden represent. And the small kids played it tie but seriouslt the Swedish kids won.
In the end they had an All-Star game and well as you maybe knew me and Emil was in the All-Star team. That was to brag if you wonder. I forgot but after each practice we went to the pool and relaxed.The last day we just ate breakfest and packed our bags. Shortly said I had a wonderful time and I was "ON FIRE!" the whole camp Emil was "ON FIRE!" too.
And I'm coming back next year. So you won't have to miss me guys. Borja see you next year then I'm going to be much taller and you will really have too look up on me.
Haris next year me and Emil have to have our own blogg.
See you guys I miss you all and hope too se you guys next year.
NOEL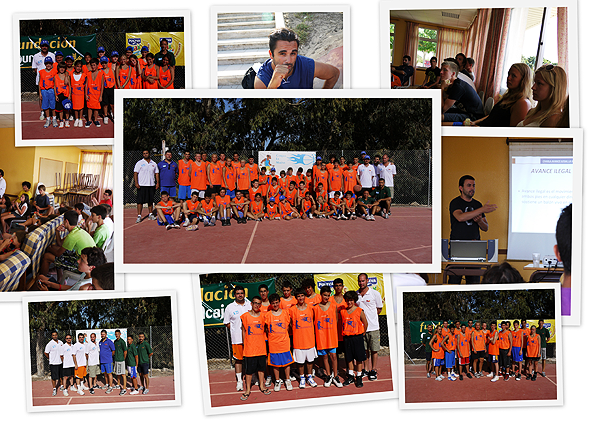 What A Wonderful World – A retro perspective of Campus La Marina 2011
Yet another successful basketball event took place in Spain this year. In the quite town of La Marina, just outside of Alicante, some hundred enthusiastic basketball youths summoned to raise the temperature even more and make a lot of commotion. The event, called Campus la Marina is a yearly event, consisting of two weeks of basketball, play, playa and never ending amusement.
"This camp is all about having fun and personal growth" says Mr Haris Kapidzic, sports director and the founder Campus la Marina. He continues: "If you attend our camp, you´re in for a real treat.
Besides improving your individual basketball skills, you´ll make friends for life. The camp is a diverse melting pot consisting of international players."This year players from Germany, France, Sweden, Spain gathered to share the fun. Campus La Marina basketball camp seeks to applaud and encourage the youths to engage themselves in the cross cultural arena. This is the social goal. Furthermore, the coaches aim to spend as much face time as possible with the players, otherwise impossible back at the player's home club due to the stress caused by a busy game schedule.
Experienced coaches from Spain and Sweden collaborated to conduct the weekly basketball program with great care. It´s is a humbling learning experience for the coaches too. Working with colleagues from different schools cross national and language barrier is not always easy. "We overcome this obstacle by trying our best to listen and work on our communication skills." says Haris Kapidzic.
The coaches who pitched in 2011 were Patrik Levy and Ali Mohtadi (Alvik Basket of Sweden), Francisco Pinto (Swedish youths national team), Vicente Paños Bañon (CD Adesavi), Eduardo Baydal (Club Baloncesto Santa Teresa), Jose Thomas Fernadez (CD Adesavi) and Desiree Mira Gómez (CF San Blas).
The players of course, have to submit themselves to a regime during their stay. The regime still gives the participants a lot of free time to socialize, but consist of these pillars: Practice hard and with the right attitude to develop your game to the maximum Accept the challenge and take responsibility for your own actions Create dialogue and seek to understand the other first, then to be understood Respect rules and the time table.
Overall, Campus la Marina, anno 2011, was a huge success. Mr Kapidzic is pleased with this year´s turn up and applauds the players for honoring their end of the bargain as described above. Now, after the camp, the players are ready to greet the coming basketball season with improved theoretical and physical competence. With the help of our collaborators, Mr Kapidzic hopes to repeat this year´s accomplishment and expand the event even further. The room for growing organically and financially is luring ahead.The town of La Marina welcomes the players next year in hope of new lasting friendships and a lot exciting basketball.
Follow Campus La Marina on: Official web page: www.campuslamarina.es
Facebook: www.facebook.com/CampusLaMarina
Twitter: www.twitter.com/campuslamarina